You can try the newer  method where you login to Skrill, click on "Mobile Wallets", Click on Add Mobile Wallet (Mpesa) with your number then withdraw to that number. Once you get the cash, give us the good news in the comments!
You can now withdraw money from Skrill to M-Pesa in a split second, literally. You no longer even have to use my financial services for that…neither should you pay anyone else to do it for you.
I may lose some profit due to this but why do we do business? It's not for personal financial gain but to help everyone succeed.
I almost ran off the street screaming "Eureka!" when I tried this method and it worked.
For the purpose of this blog post, I am going to actually withdraw some money from Skrill to MPESA and show you all the screenshots.
How to Withdraw Money from Skrill to M-Pesa Officially
1. Register for a Skrill Account
First, click on this link to register for Skrill (that's my affiliate link so I'll get some commission if you click and use it :), you will not be charged anything extra). If you like using fancy buttons, click on the one below to regiser.

Why register?
First because the method you'll use below will help you get money instantly from Skrill. Second so that you may switch your payment method to Skrill to avoid waiting periods for withdrawal or agent fees for instant withdrawal.
2. Go to Skrill iT!
This is the official service that will enable you to send money from Skrill to M-Pesa in microseconds.
You can access Skrill it via https://www.skrill.com/skrillit/ which is another web address that you need to save somewhere. Bookmark it for future use or just bookmark this post. Here is what you'll see when you go to Skrill iT.
3. Change the Skrill iT transfer to Kenya Shillings
As you see the default will have another currency. Change this to Kenya shillings as below. As you can see, I am withdrawing $50. It will automatically convert this for you to Kenya Shillings.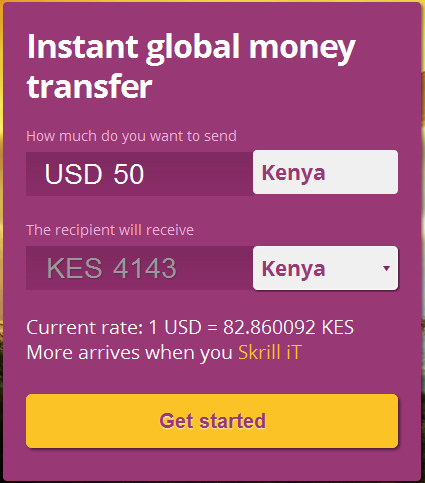 4. Click on Get Started and Choose MPESA
This method works with M-Pesa so when you click on "Get Started, this is where it will take you.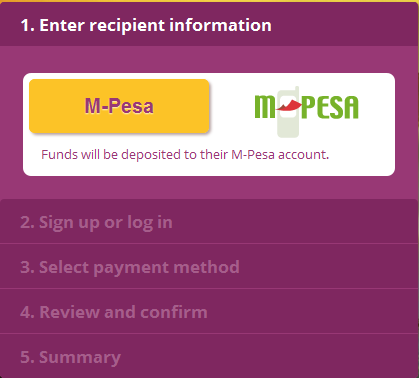 5. Fill in your details
Just fill in your correct M-PESA details here.
6. Continue to the log in details
If you had not yet logged in, you'll need to do so. Skrill will then give you your balance details and let you know if it will cover the cost.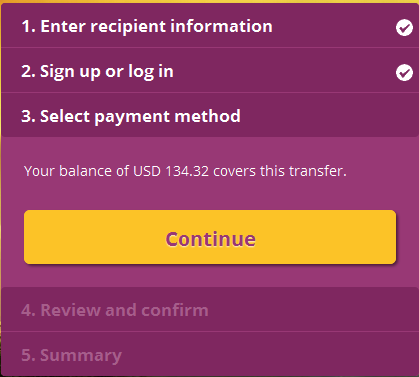 7. Ensure recipient details are correct
The recipient name can be you or someone else. Make sure you have put the correct details. If they are correct, enter your birthday. This is usually done for security reasons. After that click on Send Money. Also note that the fee is only $0.50!
8. Check your M-PESA, Skrill and Email
Yes, literally in micro-seconds you will get the cash on your M-Pesa.
This is what you will see on Skrill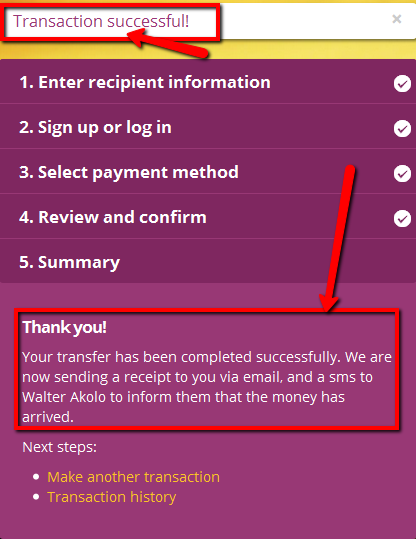 Here is your new M-PESA Balance!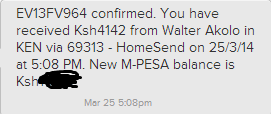 And finally a confirmation email: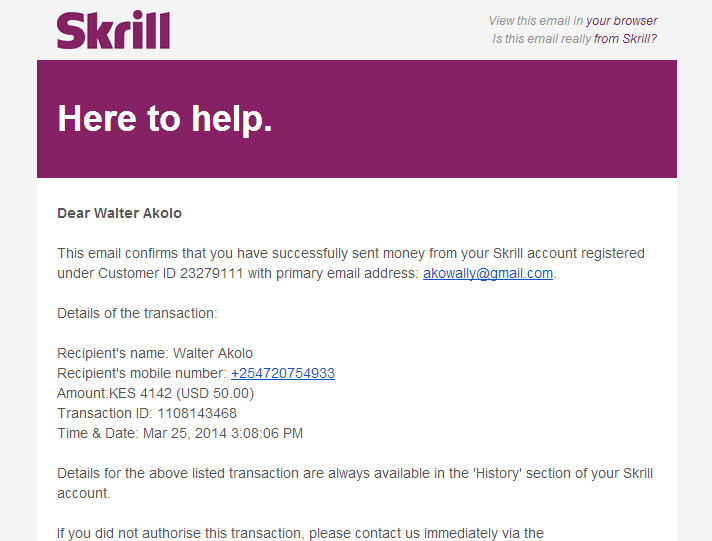 Wrap Up
Yes, it feels that good. If you have followed the above steps, you already have cash in your MPESA. You no longer need to pay me or anyone else to withdraw money from Skrill for you since you can officially do it in seconds.
Here is the official page describing the Skrill iT money transfer to Kenya.
This is literally the shortest withdrawal period from any online service to M-PESA.
You can even use it when sending money to a friend from abroad to Kenya or even locally.
Have you tried withdrawing from Moneybookers to MPESA though this method? Note that Moneybookers is the former name of Skrill. What do you think about it? Let's talk on the comments. (Please remember the comment policy, use a real name, not a website name. Website names and keywords on name field will not be approved). OK, now let's talk about withdrawing from Skrill to MPESA, shall we?